Miss SS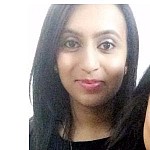 | | |
| --- | --- |
| Postcode | CB1 |
| Profession | Doctor/Medical |
| Education | University |
| Looking For | Let's see what happens |
| Last Logged In | within 3 days |
| Recommendations | None yet |
Miss SS is looking for...
A man aged 24 to 29
Religion: Hindu
Regional Origin: Anglo Indian, Gujarati, Punjabi, Punjabi Jatt
Education: University
Personality: Adventurous, Easy Going, Independent, Supportive, Ambitious, Caring, Sociable
To meet friendly individuals, just like me! Looking for a nice guy who is easy to talk to, with a good sense of humour, and great family values.

Interesting fact
Karaoke - not that i'm Beyonce but i can try... I also enjoy Zumba
About Miss SS
Fun loving, easy going girl with lots of wit! I enjoy cooking, travelling - my favourite place being China (as of yet), watching movies including a bit of bollywood, playing badminton, listening to music - rnb being my go-to and a bit of bollywood obviously, and going out with friends. I like to spend time with my family as well..
As part of the healthcare industry - I consider myself caring!
If you want to find out more.. you'll have to drop me a message!
| | |
| --- | --- |
| Height | 5' 3" |
| Build | Slim |
| Attractiveness | See my photo |
| Fashion | Dress for the occasion |
| Children | None |
| Smoker | Non-smoker |
| Drinker | Social |
| Vegetarian | Yes, vegetarian |
| Hair colour | Dark brown |
| Hair style | Shoulder length |
| Eye colour | Brown |
| Regional Origin | Gujarati |
| Marital status | Single Never Married |
| Want children | Definitely want some/more |
| Religion | Hindu |
Profession
In the healthcare profession
Personality
Adventurous, Ambitious, Caring, Confident, Easy Going, Enthusiastic, Flirty, Generous, Independent, Optimistic, Organised, Patient, Sociable, Spontaneous, Supportive
General Interests
Cooking, Gym, Helping Others, Making Money, Playing Sports, Shopping, Travel
Entertainment
Dancing, Dining Out, Movies, Theatre
Musical Tastes
Bhangra, Indian Music, R and B, World Music